10 Steps To A Smooth Global Transaction
Buying a home as an international buyer is a big decision. There are many reasons why someone is looking to purchase a home in another country. Some international buyers are looking for a place to get away, spend the winter or even eventually live in the US year round in the future. Or perhaps business takes you to the US often. Many buyers see the US as an affordable place to invest their money. If you're a foreign buyer who's looking to purchase property in Florida, there are a few things you should consider to smooth your transaction. With every transaction comes a few bumps in the road. The good news is that you can limit the number of bumps so you can have much smoother transactions.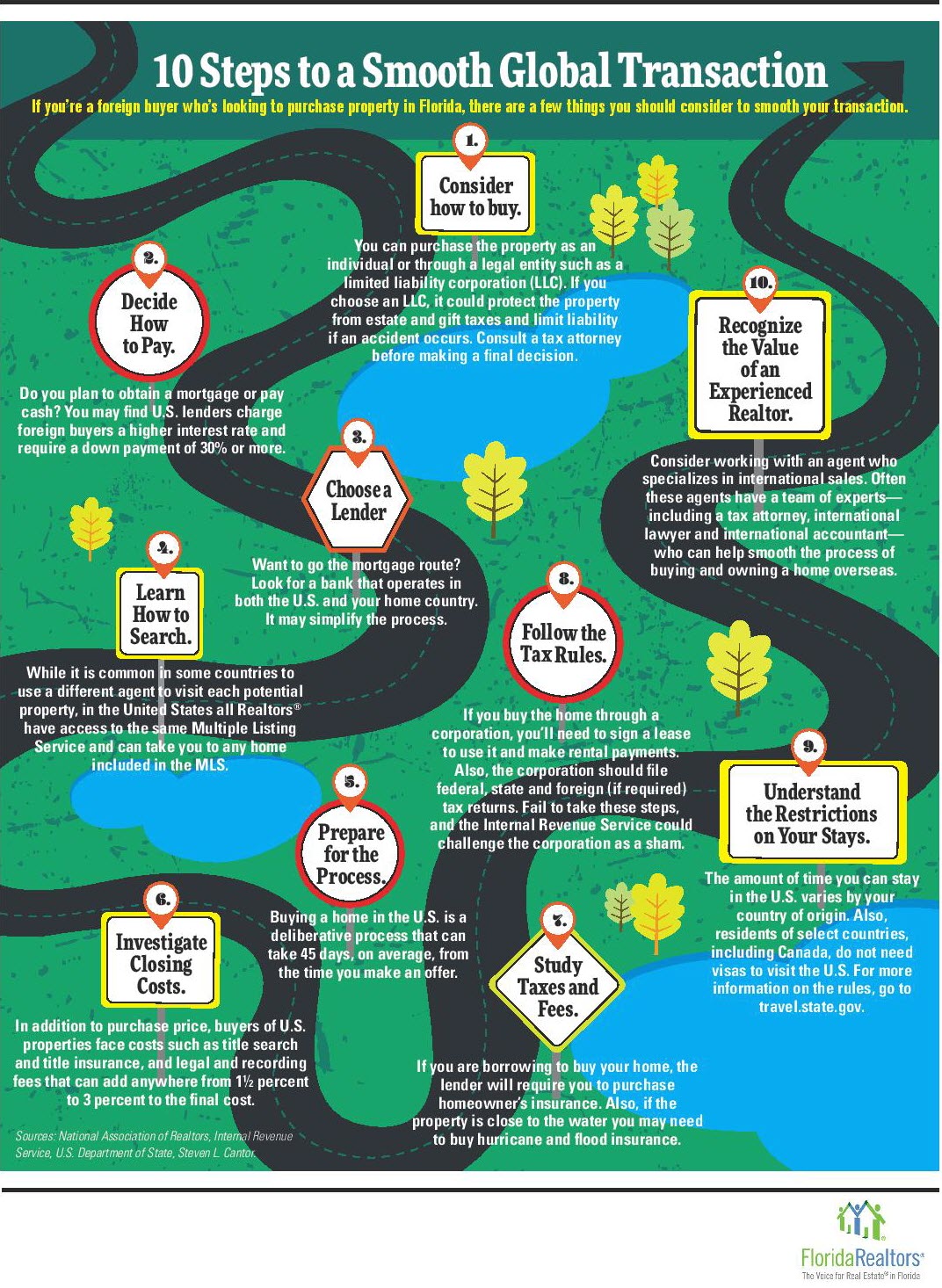 You can purchase the property as an individual or through a legal entity such as a limited liability corporation (LLC). If you choose an LLC, it could protect the property from an estate and gift taxes and limit liability if an accident occurs. It is often good to hire an attorney before making a Final decision. An experienced real estate attorney will not only understand them but also know where to look for potential problems in your paperwork.
Now decide how to pay. Financing a property is more complicated and sometimes not possible when you are a foreign buyer. Understanding your financing options up front is important so you won't have an surprises. When financing is availailable, you wil need to put more money down. Most lenders require 70% as a minimum. A cash home purchase has the flexibility of closing faster than one requiring financing, which could be attractive to a seller.
Whether you're buying or selling a house, understanding how to find a good real estate agent is essential. Your agent will help you through all steps of the process and answer the complicated technical, tactical, and financial questions that arise, so you don't have to waste hours Googling into the abyss. Treu Group Real Estate represents our clients as a buyer's agent so you have a proven real estate team on your side. The best news is that the seller pays for us so you get the best without paying the commission.
Buying a house requires a lot of time and effort and purchasing a home in the U.S is a deliberative process that takes an average of 45 days from the time you make an offer.
It is recommended that before you prepare for the buying process thoroughly investigate the closing costs. In addition to purchasing price, buyers obtaining a mortgage face charges such as title search and title insurance and legal and recording fees that can add anywhere from 1½ to 3% to the Final cost.
When buying a home, most people focus on how much it costs and what interest rate they can get on the loan. While understanding the lending process is very important, the other fees that home buyers overlook when it comes to their home purchase. There are some fees that will require up-front payment. Additional fees taxes may be rolled into the loan for your home. It's important to understand the difference and know what you'll be expected to pay. Here is a list of the most the twelve most common fees involved when buying a home:
Private Mortgage Insurance
Homeowner's Insurance
Title Insurance
Appraisal Fees
Escrow Fees
Origination Fees
Credit Report Fees
Document Preparation Fees
Survey Fee
Pest or Mold Inspection
Property Taxes
State Recording Fees
Also, if the property is close to the water, you may have higher hurricane and Food insurance.
The United States does not place any restrictions on non-US citizens buying and owning real estate in the United States. However, some countries may place restrictions on its own citizens from buying real estate in the US – therefore you should check the rules of your own country to verify you are not under any restrictions from your home country. For more information on the rules, go to travel.state.gov. The amount of time you can stay in the U.S. varies by your country of origin. Also, residents of selected countries, including Canada, do not need visas to visit the U.S.
Real estate agents are critical for successful and smooth global transactions; therefore, recognize the value of an experienced realtor. Consider working with an agent who specializes in international sales. Often these agents have a team of experts including a tax attorney, international lawyer and international accountant who can help smooth the process of buying and owning a home overseas.
We are here to help you find your new home in Florida.