Treu Group Real Estate's Core Values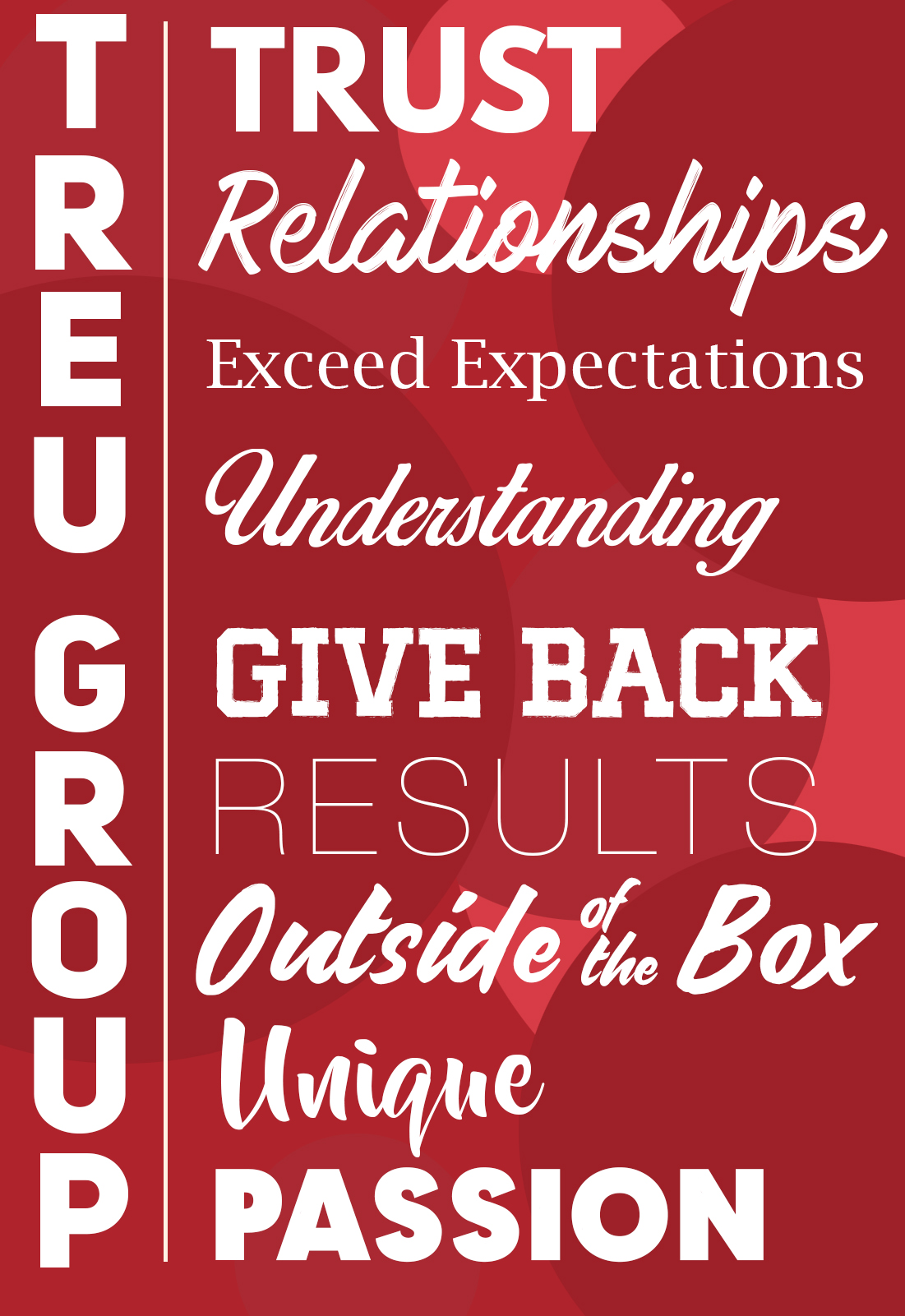 Core Values
Treu Group Core Values are the foudation of everything we do and every decision that we make. We look for ways to demonstrate them through our actions for our clients and team members.
Trust - The Treu Group is founded on trust. We have such high integrity and honesty that our clients and employees can consistently trust the information, guidance, and promises we make.
Relationships - The Treu Group deeply values relationships and people. As a family business, we keep relationships thriving with our staff and clients and always want to foster a closeness and connection.
Exceed expectations - The Treu Group goes above and beyond, every single day. We don't just want to meet the goal, we want to blow it out of the water.
Understanding - The Treu Group values listening and embracing the people around us. We know that in order to exceed expectations, we have to fully understand what someone wants and needs. So we work towards this constantly.
Give back - The Treu Group values contributing to the community and always looks for more ways to actively participate in the world around us.
Results - The Treu Group values real results, with dollars and assets attached to those results. We work tirelessly to get results for our clients and our employees.
Outside of the box - The Treu Group is adept at conquering challenges because we value creativity. We consistently push each other to think outside the box, look for new solutions, and creatively solve problems. We do not take a, "No" when a, "Yes!" is possible.
Unique - The Treu Group values individuality and uniqueness. We don't operate like most agencies and we love it. We also appreciate each of our clients and employee's unique gifts and personalities.
Passion - The Treu Group values passion, and you can feel that when you talk to us. We are a motivated and committed team who brings energy and expertise to each interaction.
Commitment - We are deeply committed to any client or employee we work with. We want to see each person successful in their goals. We work tirelessly to ensure that each person feels heard, their needs are met, and they get the results they seek.
Fun - We started as a family company and we love keeping the sense of camaraderie and fun alive as we expand and serve our clients. Our team loves to come to work and has fun in and outside the office.
Ease - We are always striving to make each step of the real estate transaction clear, understandable, and easy for our clients. We understand this may be the biggest purchase or sale for a client and we want to make the process smooth.
Education - We love educating our clients on the process, their steps, their choices, and realistic expectations for the entire search and transaction. This way they are informed about how everyone fits into the equation and serves their goals. Our team always wants to grow and educate ourselves on trends, need-to-know details, and ongoings in the real estate industry.