Palm Beach Statistics for January 2019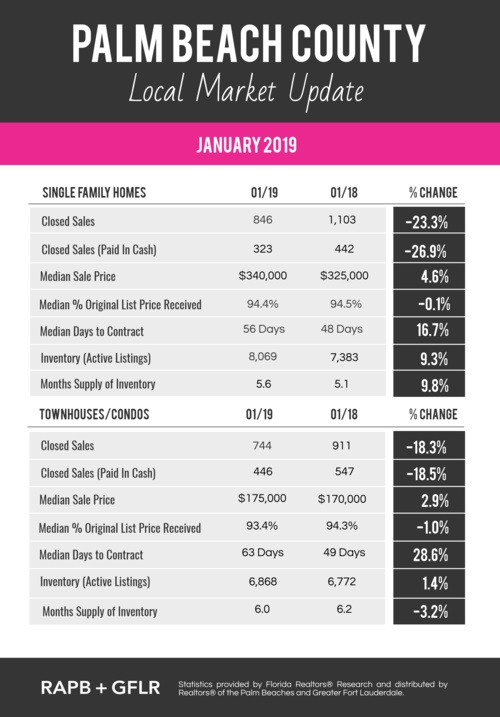 The real estate inventory increased and the number of properties under contract declined in January making it harder to sell a home in Palm Beach County. Concern over the government shut down impacted the real estate activity as well as cancelled flights due to weather.
One month does not make a trend however it is important to watch to see how the market is adjusting now that the government shut down is over.
Click to see all of the Detailed Statistics including activity by price point, days on market, median price range and days on market.
$250,000-299,999 price range - 5.84 months of inventory (Seller's market)
$300,000-399,999 price range - 7.59 months of inventory (Buyer's market)
$400,000-599,999 price range - 9.98 months of inventory (Strong Buyer's market)
$600,000-999,999 price range - 14.10 months (Strong Buyer's market)
$1,000,000 or more - 28.22 months (Strong Buyer's market)
How does the latest real estate update impact you? Real estate is very local. Let us know how we can help you figure out what the market stats mean to you. Let the Treu Group Real Estate guide you in every step of the way and help you understand the real estate market.