Is Bigger Always Better?
Posted by Lisa Treu on Friday, October 11, 2019 at 9:00 AM
By Lisa Treu / October 11, 2019
Comment
Is a Bigger House Really Better?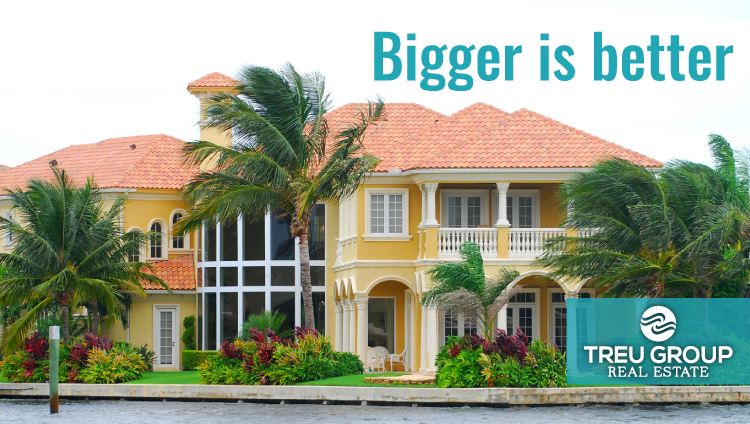 If you are looking for your next home, it's natural to assume that you should buy the biggest home you can afford. But if not, then there are other ways to maximize your investment that doesn't include more square feet.
Bigger houses mean more expenses when it comes to repairs, utilities and maintenance. Bigger isn't always better. If you don't need 4 bedrooms, then why spend your money? There are many other ways to spend your money.
View
Homes with a view will always command higher sales prices than those without. Many buyers desire to have water or golf course views to enjoy. It is a part of a dream for many buyers moving to Florida to having a relaxing view to enjoy.
Layout
The square footage is not everything. It is about how the layout is used to maximze the space. A well designed home that is free from wasted space can be better than a larger home that lacks a well thought out design.
Amenities
Amenities are often what adds to a homeowner's desired lifestyle. There are communities that have it all from resort style pools, tennis, golf, pickleball, shows, entertainment, cards, fitness activities and so much more. Being clear on what amenities are important to you is key so that you don't pay for amenities that are not important to you.
Location
The old adage of location, location, location is true. From the craftsman cottage in the historic downtown to a trendy urban loft, choosing a home in the right location is critical to increasing its value.
Choosing the right home is not simply about resale value, but that doesn't mean you shouldn't think about it. First and foremost, choose a home that fits your needs and lifestyle. If that's not a huge house on the hill, there are other options that are just as good. The bigger house is not necessarily the best choice.