Boca Raton Has the Best Parks!
Posted by Lisa Treu on Monday, August 8, 2022 at 10:00 AM
By Lisa Treu / August 8, 2022
Comment
Boca Raton Parks Are Incredible!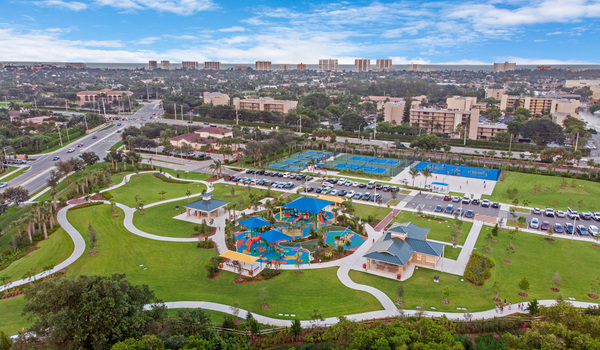 Boca Raton not only offers breathtaking beaches and intercoastal waterways, but also has many beautiful parks! These parks are ideal for kids and adults of all ages and offer endless activities and enjoyment! The City of Boca Raton spends millions of dollars a year on parks to promote healthy and fun lifestyles for the public!
Hillsboro El Rio Park
Hillsboro El Rio Park is located off of SW 18th Street and Dixie Highway. This massive park has two sides, North and South. The north side is full of athletic fields and many places to exercise. The south side offers a new water park and playground that includes all sorts of fun things to do! From a half-mile fitness course, a 10,000 square foot playground with a toy chest and large parking lots on site; there's no shortage in entertainment for kids and adults. You can also enjoy picnic pavilions, tennis and basketball courts, and a sand volleyball court. You will be in awe at this park, check it out!
Sugar Sand Park
Sugar Sand Park was recently renovated, and it surely shows! It is a great park with a massive playground for kids of all ages, located off Military Trail and W Camino Real. Have you ever been to a park with a carousel? Sugar Sand Park has one! Not to mention, after running around the playground, you can go inside to cool off and experience even more cool activities! Inside they have their own Children's Science Explorium, along with other exhibits. The Explorium is a must see, kids love going there and you will too! Sugar Sand Park also offers multiple basketball courts and large fields for everyone to play a game of football or to run around with friends. They also have multiple pavilions with seating, perfect for a birthday party or event!
Patch Reef Park
Patch Reef Park is a wonderful place for activities and games, located off Yamato Road and Military Trail. This large park has many amenities including ball fields, playgrounds and picnic areas under large trees providing shade from the sun's rays! This park has a Pirates Cove Playground with a splash pad for everyone to cool off at. This park not only has pavilions, fields, playgrounds and bathroom facilities, a community and tennis center, but also has many trails great for exercise! This is definitely a park that you want to check out!
These are some of many parks Boca Raton has to offer. Next time you are thinking about where to exercise or where a fun place to take kids is, check out some of these parks! You will never want to leave!