Delray Restaurant Month September 2023
Posted by Lisa Treu on Tuesday, September 5, 2023 at 9:30 AM
By Lisa Treu / September 5, 2023
Comment
🍽️Dive into Delray Restaurant Month!🍴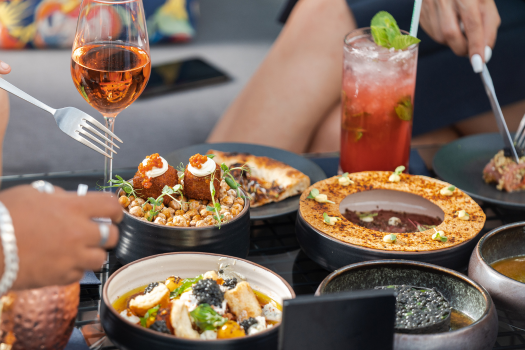 September is the ideal month to try a new restaurant in Delray since it is Restaurant Month. Get ready for the 8th annual Downtown Delray Beach Restaurant Month, a month-long celebration of deliciousness that will showcase the vibrant and diverse dining scene of Delray Beach. From September 1 to September 30, 2023, locals and visitors alike will have the opportunity to indulge in special deals and exquisite flavors at more than 30 restaurants, cafes, and fast-casual eateries.
🍹 Delray Beach's Culinary Fiesta🍸
The festivities are not limited to just one type of dining experience – you can explore multi-course prix fixe lunch and dinner menus, take advantage of happy hour and brunch specials, and uncover exclusive cafe deals. This is your chance to explore your favorite spot or check out the place that is causing a buzz. With so many options to choose from, you can plan a different culinary journey for every day of the month!
🍴A Taste of Something New🍴
As Delray Beach continues to evolve, so does its dining landscape. Delray Beach has attracted many new restaurants that makes the Foodie's mouth water. The 8th annual Restaurant Month introduces you to a variety of new restaurants that have joined the scene in the past year. This is the perfect opportunity to support local businesses and discover hidden gems that might become your new favorite spots.
📅 Mark Your Calendar and Get Ready to Feast! 📅
Remember, the gastronomic festivities kick off on Friday, September 1 and continue until Saturday, September 30, 2023. It's a month filled with delectable delights and unforgettable moments, so be sure to save the dates and get ready to treat yourself to some of the best flavors Delray Beach has to offer.
So, how can you be part of this sensational feast? It's as easy as pie (or a seven-course meal):
Step 1: Look for the list of participating restaurants here: https://www.downtowndelraybeach.com/restaurantmonth2023
Step 2: Pick your favorites and make reservations because you wouldn't want to miss out.
Step 3: Be ready for a wonderful dining experience in Delray Beach.
So, what are you waiting for? Get ready to indulge, explore, and create lasting memories during Downtown Delray Beach Restaurant Month. Your taste buds will thank you!
In the midst of this September's culinary fiesta, why not double your dining delight by indulging in both the rich flavors of Flavor Palm Beach 2023?