Remodeling Projects with the Greatest Return
Posted by Lisa Treu on Monday, November 25, 2019 at 12:00 PM
By Lisa Treu / November 25, 2019
Comment
Home Remodeling Projects That Can Get The Greatest Return
Even if you're not thinking of selling, it is always good to consider how remodeling will impact the value of your home. Some renovations have a poor return on investment, while others will pay you off the greatest returns.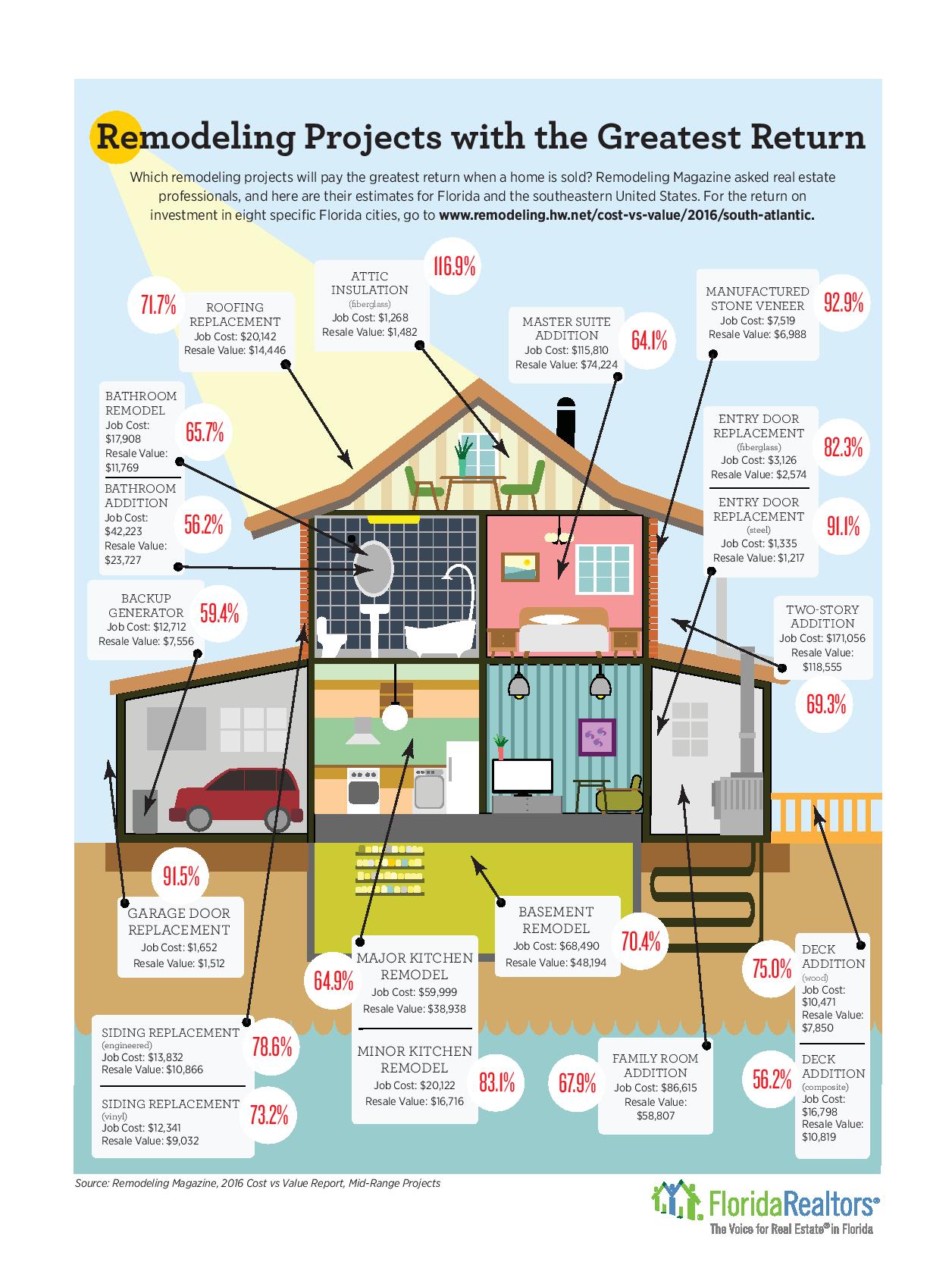 So are you ready to know those secret weapons (Remodeling Projects) that will deliver the highest ever returns? Here we go:
1. MAJOR & MINOR KITCHEN MODEL:
Kitchen remodeling can be done as simple or as elaborate as you like. This is the best place to invest your renovation money as it brings the highest return and makes a home easier to sell. However, to maximize your return keep your total investment to under 20% of the value of your home. If you over improve you will receive less of the investment back. This project can have you seeing a whopping 85% return on your investment.
MAJOR KITCHEN REMODEL: Job cost: $59,999 Resale Value: 64.9% of $38,938
MINOR KITCHEN REMODEL: Job Cost: $20,122 Resale Value: 83.1% of $16,716
2. BATHROOM REMODEL & ADDITION:
A complete bathroom remodeling project can cost upwards of $20,000. However, based on the numbers researched, it's definitely worth it. Not only will this project pay for itself, but it could give you an added 80% return and the estimated returns are:
BATHROOM REMODEL: JOB COST: $17,908 RESALE VALUE: 65.7% of $11,769
BATHROOM ADDITION: Job Cost: $42,223 Resale Value: 56.2% of $23,727
3. REPLACEMENT:
If you find yourself sprinting for the buckets when it starts to sprinkle, getting a new roof should be your No. 1 to-do. Measuring rainfall from the indoors isn't cool.
THE JOB COST: $20,142 THE RESALE VALUE: 71.7% of $14,446
Considering it's what's between you and the elements, it's a no-brainer. Not sure if you need a new roof? Signs you might include:
Shingles are missing, curling up, or covered in moss.
Gritty bits from the asphalt shingles are coming out the downspout.
The sun's shining through your attic.
You notice stains on ceilings and walls.
Your energy bill is sky-high.
4. DECK ADDITION:
If your home is your castle, your yard is your kingdom. After giving your yard a much-needed overhaul, you need a place to watch over your handiwork. How about that deck you've been dreaming of?
JOB COST OF A WOODEN DECK: $10,471 RESALE VALUE: 75.0% of $7,850
JOB COST OF A COMPOSITE DECK: $16,798 RESALE VALUE: 56.2% of $10,819
5. GARAGE DOOR REPLACEMENT:
No surprise that a garage door replacement project made it onto this #winning list a new garage door provides a big boost for your home's curb appeal at a relatively modest cost.
JOB COST: $1,652 RESALE VALUE: 91.5% of $1,512
There are options galore, too. A host of factory-finish colors, wood-look embossed steel, and glass window insets are just some of the possibilities that'll give your doors bankable personality.
6. SIDING REPLACEMENT:
This is not all that common in South Florida since many of our homes are Concrete Block however frame homes might benefit from siding. In any color! And never paint again. Those are two of the three benefits of vinyl siding. The third, of course, is your home's value. But if long-time homeowners look at you funny when you mention vinyl siding, just tell them that today's vinyl is way better than what they remember because of fade-resistant finishes and transferable lifetime warranties.
JOB COST: $12,341 RESALE VALUE: 73.2% of $9,032
Want engineered siding instead? It also shows a high payback of 78.6%. Although it's the pricier option, you'll spend $13,832 and get RESALE VALUE: 78.6% of $10,866. It has one thing vinyl still lacks the perception of quality. And quality matters. In a survey from the National Association of Home Builders (NAHB), "quality" was one of the most important traits that home buyers focused on when house hunting.
7. ATTIC INSULATION:
Insulation is the smartest way to save energy, so insulate your attic. Insulation is tucked out of sight, so it's often out of mind-adding attic insulation delivers the greatest return on investment. As energy prices rise, it means deep applications of attic insulation make more economic sense.
JOB COST: $1,268 RESALE VALUE: 116.9% of $1,482
8. MASTER SUITE ADDITION:
A straightforward addition of a master suite is typically a perfect investment. Updating a master bedroom or remodeling and adding a new master suite is money well spent. The buyers will picture themselves living in their private space, and it's of quantitative value when they like what they see. Build a classic Master Suite Addition, and your life will never be the same.
JOB COST: $115,810 RESALE VALUE: 64.1% of $74,224
9. MANUFACTURED STONE VENEER:
When it comes time for you to sell your home, remember that perception is everything. You want prospective buyers to see the quality of home in every part even if it is only perceived value. Manufactured Stone veneers are a perfect example of this. In a recent Real Estate Pro Magazine article, experts agreed that stone veneers led buyers to believe that the home was of higher quality than it actually was. It gave the house that polished finished look that all home buyers desire.
JOB COST: $7,519 RESALE VALUE: 92.9% of $6,988
10. TWO-STORY ADDITION:
Adding a two-story addition to your house will enhance your property's value and help you gain a considerable amount of living space. The complexity of a two-story addition means engaging an architect and a reputable contractor. Hiring professionals enable you to focus on making informed and timely decisions, protecting your budget, managing the stress of room addition, and coordinating and communicating with your project team. It will COST you $171,056 but will give you a major resale value, i.e., 69.3% of $118.555
11. BACKUP GENERATOR:
Backup power generators offer families peace of mind during emergency situations, like a weather-related natural disaster. During utility power outages, standby generators provide the home with an automatic supply of backup power using a transfer switch and power management system. This enables homeowners to run appliances such as sump pumps, air conditioners, heaters, refrigerators, clothes washers/dryers, and lights. Any remodeling or home improvement project that increases the home's livability while also recouping a large chunk of the project investment is worth considering. Generators and other storm protection increase in perceived value after a storm event.
JOB COST: $12,712 RESALE VALUE: 59.4% of $7,556
Clearly, some of these projects will make more sense for your home than others. If you're considering selling your home, then just one of these projects could add thousands of dollars to the price you'll be able to get when your home sells.