West Palm Beach Green Market
Posted by Lisa Treu on Friday, October 6, 2023 at 5:00 PM
By Lisa Treu / October 6, 2023
Comment
West Palm Beach Green Market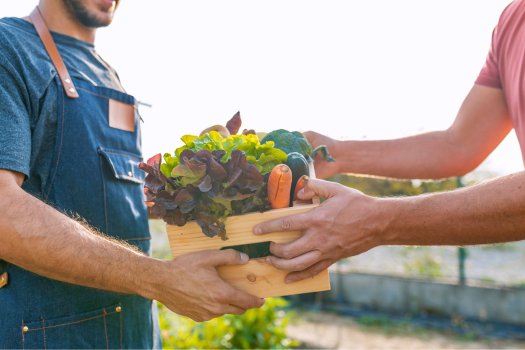 Hey, food lovers! Mark your calendars because the West Palm Beach Green Market is kicking off its 29th season on Saturday, October 7, 2023. Located in the heart of downtown West Palm Beach on the vibrant 100-200 blocks of Clematis Street, this isn't just any market—it's the "Best Farmer's Market in America" according to USA Today. And for the third year in a row, no less!🎈
Essential Details for Your Visit:
🌞 When: Every Saturday from October 7, 2023, to April 15, 2024, from 9:00 a.m. to 1:00 p.m.
📍 Where: 100 N. Clematis Street, West Palm Beach, Florida, 33401. (For the GPS-savvy folks!)
🚗 Parking: Park for FREE at the City Center Garage (401 Banyan Boulevard), Clematis Street Garage (500 Banyan Boulevard), and Sapodilla City Garage (640 Clematis Street) during GreenMarket hours. No parking woes!
From Humble Beginnings to Foodie Paradise:
Back in '95, this market started as a small gathering of 13 vendors in the Old City Hall parking lot. Now, it showcases an impressive 125 vendors, 30 of which are brand new! 🎉 Discover fresh faces and flavors.
🍰Chef Luc: The Pastry Rockstar & Palm Beach Cider Donuts:
Experience pastries enjoyed by royalty 👑 with Chef Luc. And for the sweet-toothed, Palm Beach Cider Donuts, a family-owned gem, serves genuine Apple Cider Donuts that'll have you craving more!
🍍Fruit Fanatics, Dive Right In!:
Explore a variety of tropical fruits that have basked in the South Florida sun ☀️. Can you name them all? Challenge on! 🏆
🌾Palm Beach County: The Food Fortress:
Beyond the market, Palm Beach County is a leading U.S. producer of sugarcane, sweetcorn, and bell peppers. A top 10 agricultural powerhouse indeed!
🍞Midnight Magic with Bread by Johnny:
Johnny crafts more than just bread. At midnight, he's creating over 300 loaves of pure magic.
🍤The Pink Shell: Fritters with a Side of Nostalgia:
Taste Cindy's conch fritters, each bite a heartwarming tale from her grandma's trusty cast-iron pot.
🍪Gringuita Cookies: Teacher Turned Cookie Queen:
Follow Caroline's journey from the classroom to creating Gringuita Cookies, which are so delightful they caught the attention of big names like Whole Foods!
In essence, the West Palm Beach Green Market isn't just a market—it's an experience. It's a unique fusion of flavors, tales, and a lively atmosphere—a foodie paradise in Florida's heart ❤️. Come for the food, stay for the vibes! 🎉