12 Tips to Make Moving Easier
Moving from one house to another can be very stressful. It actually is one of the biggest stressors in life. Having a plan can help minimize the stress especially if you start early. Here are a few tips to help you make the transition to your new home easier.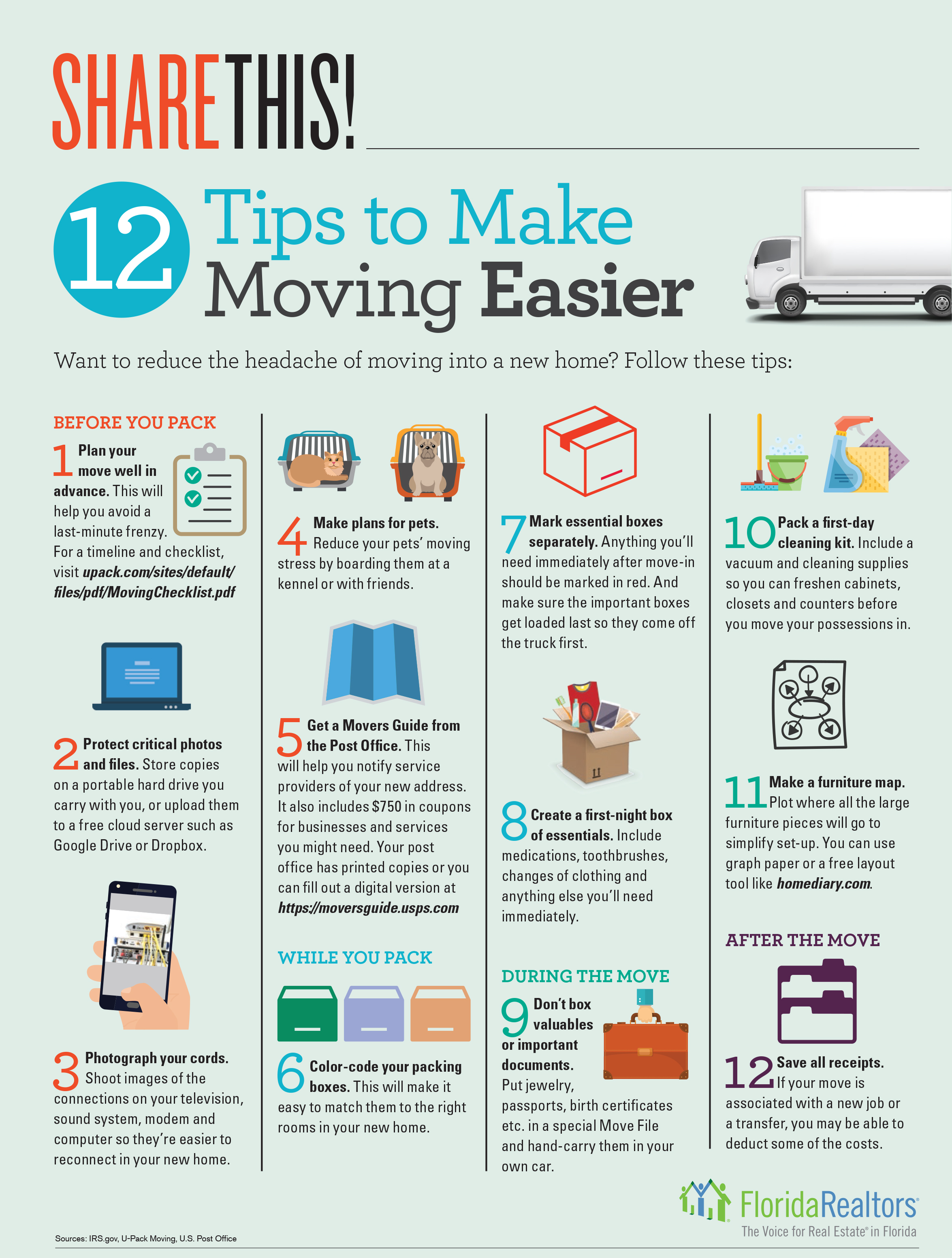 The outline below, are 12 important tips to make moving easier.
1. BEFORE YOU MOVE. Plan ahead the perfect time for your move, Most likely a weekend where you can have friends and family assist you since they won't be working. Save time and money on hiring people to do it for you. That is what I call moving smartly. To get timeline and checklist, see upack.com/sites/default/files/pdf/MovingChecklist.pdf
2. PROTECT CRITICAL PHOTOS AND FILES. Protect those important photos and files by having duplicates on your hard or flash drive or send them straight to an online storage such as DropBox and Google Drive, You will have them forever. Don't give anyone your passwords too.
3. PHOTOGRAPH YOUR CORDS. Nothing as frustrating as mixing up your TV, Computer, Stereo or Cable cords when trying to reconnect them. Easy way to get them correct is taking a photograph of them, That way you have an image of how they were connected before.
4. MAKE PLANS FOR PETS. Save that little pet the unnecessary stress of moving. As soon as the moving boxes come out, they often become anxious. Look for options on a place your pet can stay during moving day if possible.
5. GET A MOVERS GUIDE FROM THE POST OFFICE. Just in case you are new to moving or didn't know, this is the best guide to help you notify service providers of your new address. $750 in coupons for businesses and services you might need. The post office has copies printed or you can fill them online at https://moversguide.usps.com
WHILE YOU PACK
6. COLOR-CODE YOUR PACKING BOXES. You will find it easy to match them to the right room in your new abode. Sorting never looked so easier!
7. MARK ESSENTIAL BOXES SEPARATELY. Whatever is important and you will need as soon as you move in, be sure to pack them so you can find them quickly. Mark them in red and make sure they are loaded last so you can get them out first.
8. CREATE A FIRST NIGHT BOX OF ESSENTIAL. You are going to need this if you do not want to search for your medications, toothpaste, and toothbrushes, bath soap, etc and other essentials on your first night. Maybe add in the coffee pot, coffee and coffee cups for th enext morning.
DURING THE MOVE
9. DON'T BOX VALUABLES OR IMPORTANT DOCUMENTS. Keep them safe and in plain sight. Place all jewelry, passports, birth certificate and other important documents in a special file and have them with you in your own car.
10. PACK A FIRST DAY CLEANING KIT. Be sure to have a vacuum and cleaning supplies with you. You will need your new cabinets, closets, and counters clean before moving in with your belongings.
11. MAKE A FURNITURE MAP. Have a draft of where you want all the large furniture pieces to be. You can make use of graph paper or a free layout tool like homediary.com
AFTER THE MOVE
12. SAVE ALL RECEIPTS. Keeping all receipts may help you reduce some of the cost if the reason for your move is a new job or transfer.