Buying a Home Affordability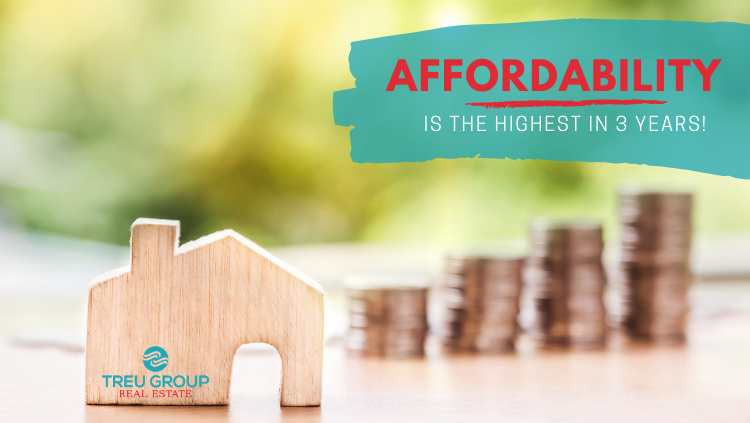 Affordability is at a 3 Year High
When there are changes in the real estate market, it is important to pay attention and benefit from the real estate opportunities. There are buyers looking to buy a home right now, and one of the big reasons is Affordability. A lot of people have noticed that the mortgage rates really have come down significantly to near historical lows again.
The opportunity of the moment is about affordability. Our affordability is at a three year high. The opportunity that we have today, we have not seen for three years. Think about that. Turning back the clock three years, who always says, I mean, we say this all the time, "I wish I knew then what I know now." Now, this is the opportunity to kind of reset and take advantage of low-interest rates, more options for sure then there were three years ago. Three years ago, there were many more multiple offers and it was harder to find, not just a good deal. It was just hard to find a home you like. So now we have this kind of second chance to take advantage of lower interest rates, more options, and just go ahead and buy that property.
This is most important for those renting or still living at home. You might be asking if it is cheaper to buy instead of rent. For most properties the answer is 100% yes. It is going to be cheaper for almost everybody to buy. Not everybody should buy, however, a quarter of all renters, 100% should be homeowners. They should stop paying the rent and start investing in their own wealth. If you're not sure if you should be the 25% that should be buying, call us and we'll help you analyze and ask you the right question so you can know confidently whether you should continue renting or you should become a new buyer.
When we take a look at some of these affordability metrics too, we're so fortunate because Florida is in high demand and we're actually seeing, looking forward and talk about waiting to do certain things, well, if you're buying, probably want to be taking advantage of this opportunity right now for any number of reasons. You brought to our attention the importance of homesteading, being able to close before year-end certainly accomplishes being able to get homesteaded for next year. But the other, when we take a look, Zillow was just putting out some estimates for real estate prices over the next year, and they do believe that real estate appreciates approximately 2% across the country, more than double that, over 4% again in Florida next year. So if you wait, not only do you run the risk of mortgage rates being higher, but you also are likely going to be paying more for the same property.
If you are still renting another thing to consider is you will see property taxes continue to go up. One year delay of being able to lock in your homestead exemption will cost you year after year. We've seen that, over the last few years, that delay has cost people a lot of money. And remember that is year over year over year. So when you save a little on your taxes, it's not a one-time savings. It really does start that "save the home" benefit from that point and a year earlier can really impact the amount that you're paying in your taxes.
Millennials and Real Estate
Millennials have become a bigger part of the home buying metric going back about a year and a half or so ago. Now we're talking about the older end of the millennials being around 38 years old. It's kind of hard to believe that every single millennial is actually over the age of 21 now. So that is leading to a different dynamic in buying and housing generally.
45% of all new mortgage applications were from millennial buyers recently. Think about that, almost half. And we have been saying it's coming, they are going to enter the real estate market, and they are. This is just an amazing number. I'm so happy to see this because they were kind of getting squeezed out of the opportunity to be a buyer, many of them, because prices were getting high, some of them still were dealing with school debt and now we're seeing that they've realized affordability's down, it's a great time to get into it. And the other thing that has really changed is the type of property that many of them are buying. When I bought my first home, I bought a starter home and I built my real estate wealth from there. Many of them have skipped that starter home because they've been saving money, they have great incomes, they are really financially in a good position, and so they are skipping the first home and going to their second home and some of them even their dream home right out of the gate.
Buying as a First Time Home Buyer
And if that's viable, great. We know for many people though, it's not. And what you just mentioned, it resonates because I have this conversation on a somewhat regular basis with a lot of younger adults that are renting and stuck in that rent mode. They're not realistic. Not going to necessarily have what they had at mom and dad's house before they left, and instead are settling for a sub-optimal apartment, renting, which is not optimal to begin with. What's your message to people about being realistic when you buy that first home?
We always talk to all of our buyers about the three must-haves. Every buyer, there are three must-haves that they have to have. And I agree with you Brian. I've said for years that where your parents have ended up is not where you're probably going to start and that's okay. It's all about a strategy.
When we talk to first time home buyers, what is your strategy? What is your timing? What are your long term goals? And then we kind of back in, okay, this would make a good first step with maybe two to three years there and then make the transition.
I think it's about budget. Budget and understanding the product that you're buying. If you're buying a fixer-upper, obviously there's going to be costs associated to fix it up. However, there are some amazing loan products out there where you can build those repair costs into your mortgage because as you said, most people can afford the monthly payment. It's that, "Okay, I can't afford a new roof," right, and a big-ticket item. You can build that into some of the loan products so that you're paying for it over time, with terms. And it's much more affordable, especially when we're talking about rates like ... I mean, it's almost free money, I mean, at this point. Many people that normally would be paying cash for properties right now are looking at financing because of the availability of such a low-interest rate.
Mistakes People Do When Buy
The number one thing that people are doing is the great deals go quickly and they are searching on sites that are not direct MLS feeds. They think that the Zillows of the world have everything. They don't. What people don't realize is that the real estate agent decides whether it goes on Zillow or not. Many agents refuse to send and many MLSs refuse to send that information to Zillow. Even more frustrating, is that when you find a home and you fall in love with it and you call that agent, guess what? You hear it sold at least half the time because it doesn't come off, maybe, until it's at least closed, and it may be even after that.
And so the real-time data, it's not coming through sites like Zillow, and having a site where it is direct MLS, where it is fed, the beauty of my site, agents can't opt-out of it. If it's available for real estate agents, it's available for buyers looking on my site, period. They can also see, is it still active for sale or is it already under contract? You can just eliminate all the properties under contract so you don't even see them in your search. That's what I would do. And a site like mine also allows you to include or exclude specialty things, which we have a lot of in Florida.
We want to give our clients real time information. At www.treugroup.com the buyer has so much more control, and we even have videos on how to search for a home effectively, because let's face it, we're all busy. We're all online for everything we do. We're looking something up constantly, and yet if you're not using the site properly, you're still going to get frustrated. We have a video on how to use our site and how to get your search set up so that you don't even have to search. It just comes to your email box when there's a perfect home.
Are you ready to buy your new home? It is easy, give us a call to see how we can help at 561-352-3056.