Benefits of Buying While in College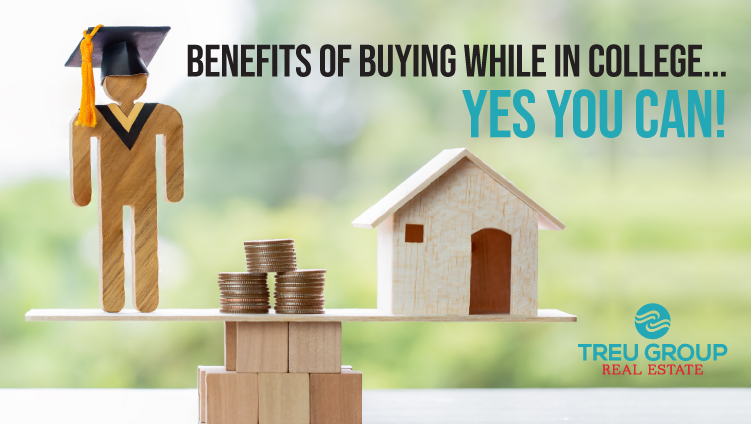 Instead of Living in a Dorm, Buy a Home
To listen to the show, click here.
Brian: Welcome to Treu Real Estate 911. It's Brian Mudd along with your local real estate pro, Lisa Treu. Today we will be discussing the options for buying a home for college students and all of the benefits.
What tips or strategies do you have for parents who have college kids?
Brian: We're talking about strategy and a great idea is to consider buying a home with your college age child instead of paying the high costs of dorms or apartments. This could be a real solution for parents that have kids in college and a way to not only create more value within the family but also perhaps some tax strategy and efficiencies as well.
Lisa: There are better options today for mortgages including the program we are going over today. One of the things that I've learned recently is that there are loan programs out there for parents with college students. And I think that many parents that are writing checks for dorms or apartments and paying a landlord, those numbers can get big, and they get a little frustrating. And so this new program is pretty amazing where mom and dad with the child can buy a property where they're going to school and they can get a program with as little as 3-1/2% down, which when you do the numbers, I mean it's pretty impressive.
One of the postive financial benefits is It also helps you get your child started on the real estate path. While they're in school for the next two, four, some eight or 10 years, this property is building wealth and equity. Now what many of my clients are talking about doing is buying the property and then buying a three-bedroom home and then having their child manage the rental of the other two bedrooms so that yes, you've got a little bit of money invested in it and yet basically your child is living there for free. The friends are happy because they're getting a great property and your mortgage payment is being paid down by someone else. It's a great option. Now you need a responsible person.
Parents have to know their college student and know if this strategy is something that they want to do. If the program had been there when my kids were around, I would have done it. And many of the people were talking about, okay, when my child graduates, especially in some of these great amazing college towns, I'm going to keep the property and we're going to keep it as an income property. So it, just think, it's a really solid way to find a place for your child to live while they're going to college, offset some of those expenses, and build some wealth for whatever agreement you want to make with your child.
Maybe you, this is kind of your gift to them to reinvest the dorm money you would've spent or maybe you partner with them. Kind of depends again on your family situation. And yet I think it's something that if I asked 10 people, nine would probably say I'd never even thought of that.
One of the savings comes from the fact that you can get homestead exemption, which is a real plus compared to you just buying an investment property and then you can't get the homestead benefit for that because you already own another property. It's a great way to kind of keep your costs down, get the homestead benefit, and just look for ways to create more wealth for you and your child.
What benefit could this bring me?
Brian: There are certain communities, as you mentioned, that work better than others. But you could certainly see something like this potentially being effective in Gainesville or Tallahassee for example. And when you're talking about the amount of layout. When you hear buying a home, I think people are thinking, hold on, I'm already paying for a college education. This sounds really expensive. But you're talking about from a monthly payment standpoint, finding a property that would effectively match what you'd be paying for dorm anyway, right?
Lisa: The benefit of buying a property for your college student is that you can offset some of your costs by renting out the extra rooms. And I think that many families do that anyway. They get a three-bedroom apartment that they rent from a community and then they divide the rooms up. Why not go ahead and do this where you're building the equity, not building the equity of another landlord. And I agree with you. I think Gainesville and Tallahassee would be great, but I also think that Boca Raton would be great.
FAU has become a substantial university, and in my opinion, they have a shortage of dorms for their students. And people think it's a local school. It's not anymore. It used to be when I first moved here back many, many years ago, but it's become a place where people come to from other areas, Lynn University is another great example. And then of course in West Palm, we have great universities there. So I think that this works whereas locally and certainly for people that are sending their children away to other areas. And I've got great real estate agents that will take amazing care of you if you want to buy in Gainesville or in Tallahassee or anywhere else. Tampa. We can put you in touch with somebody who understands this strategy and can help you pick the right property for the right situation.
When should I start looking at buying a property?
Lisa: This is why I wanted to talk about this right now. This could all happen before it's time for them to renew their next dorm the next semester. Starting in January, they could be moving in, or December, ideally, for homestead benefits, moving into their new property and not being living in a dorm. It's about finding the right property. It starts with a consultation. Speaking with our lender, getting pre-approved with our lender. And then it's just a matter of us finding the property. Statistically, right now our team is finding our clients the right property after four to six homes. And this doesn't have to take a long time. You can 100% find your home and be moved into it by December to get this year's homestead, to file for homestead for the next year, and also to avoid having to deal with the dorms next semester.
Brian: Well, I mean that sounds like a plan that could be coming together. And when you talk about someone who is a good profile buyer for this type of situation, what is there a certain type of person that might be better suited for this?
Lisa: The starting point is that you want a reliable college student. And we all know our children best. Someone who's going to take care of the property. Someone's going to communicate with you when something's broken. And someone who maybe has really good quality friends that they're going to also take care of the property.
From a financial standpoint, I think that many people could do this because they already are going to be writing that hefty check anyway for a place for their children to live. And you need the 3-1/2% down in order to do this. So you need to have 10,000 depending on the price point. But 10,500 would give you a $300,000 home. So maybe your children don't need to live in a $300,000 home, depending on where it is. Right. If we're in Gainesville, they certainly can probably get something for less. And so I think that the first thing is just to call me. Let's explore it and see if it's right. Because if it's not, it's okay. And yet if you don't pick up the phone and make that phone call, you may miss out on that opportunity.
Lisa: Our lender can close a deal in two weeks if he has to. He did a VA loan for me two years ago in 10 days, start to finish, in December. Now is that ideal? It's not. It is not what I want to do. It is not what he wants to do. And it's certainly not what the consumer wants to do, because they have to be ready and on it. And yet it's possible. So I would say the drop-dead date from a homestead standpoint is probably going to be the first week of December. Let's just aim for that. It could push a little bit.
Now the question comes of when do you have to commit to your dorm next year. Every school is different. So that drop-dead date, obviously you want to know that you're able to get them someplace to live before you opt-out of the dorm. What they need to do is go look and see what that date is. Is it mid-November? Is it December? I don't know. What I do know is there is still time right now to handle it all before that drop dead, if you pick up the phone and take action on it.
Brian: If this is of interest to you, then the Treu's are ready to help you. And true of anything else, buying, selling questions, always a resource. If you're not at TreuRealEstate911.com, go there. Check it out. Call us to explore this strategy. You can reach out to the Treus, try them. (561) 972-8326. (561) 972-8326.