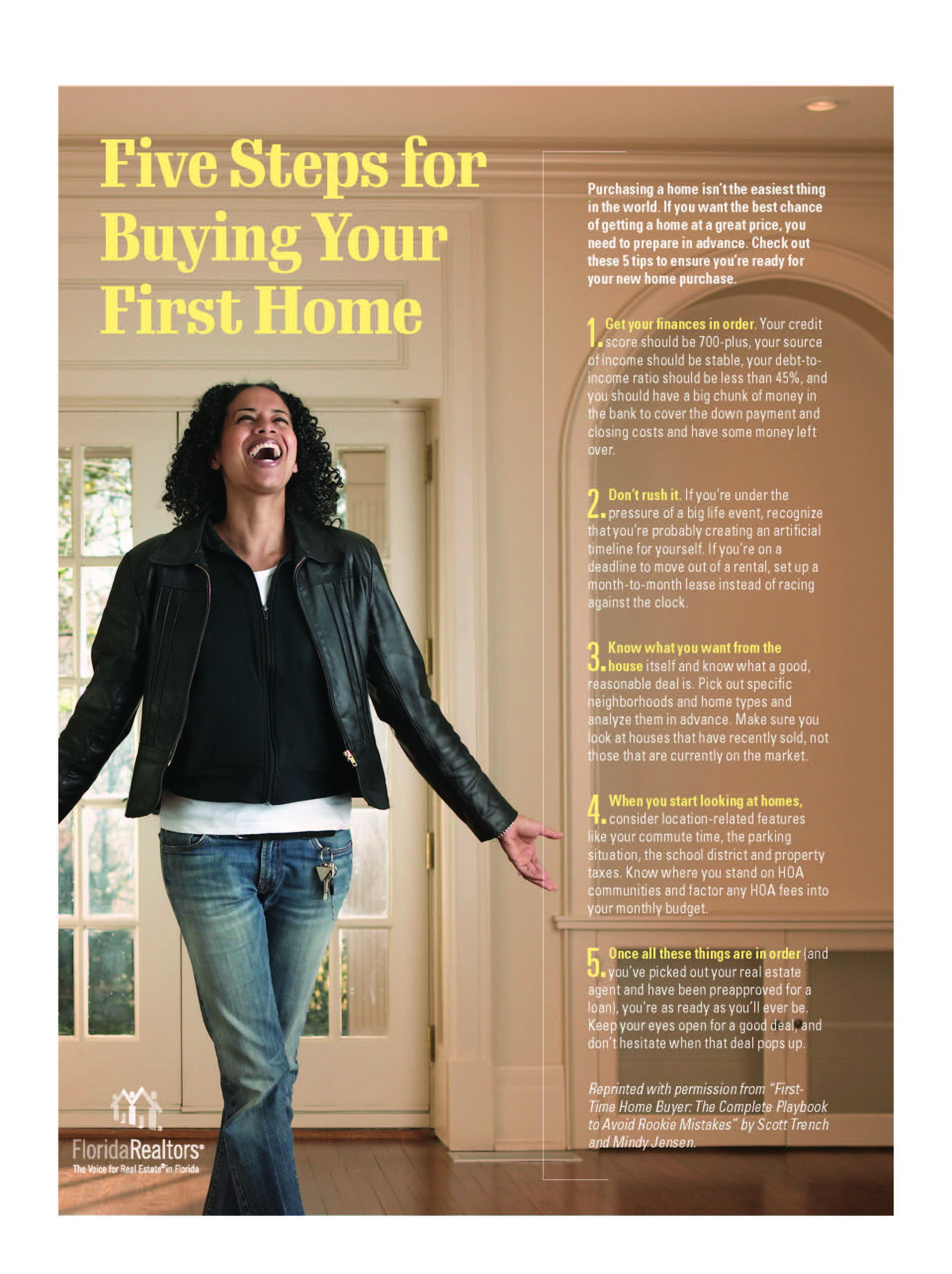 Buying your first home in the current real estate market can be a challenge however with the right team and strategies your goals can come true. Your first home will most likely not be your dream home and that is ok. The way to make sure that your first home leads to the dream ultimately is to have a plan and even an exit strategy. Will you sell it to move to the next home or will you keep the property as an investment.
5 Steps for Buying Your First Home
1. Have your finances in order. Having your credit score as high as possible, your source of income should be stable, your debt-to-income ratio should be less than 45%, and you should have enough money in the bank to cover the down payment and closing costs and have some money left over.
2. Don't rush it. If you're under the pressure of a big life event, recognize that you're probably creating an artificial timeline for yourself. The goal is to find the right first-time home that fits your lifestyle and budget. However, when you find the right home, take action quickly.
3. Know what you want from the house itself and know what a good, reasonable deal is. Pick out specific neighborhoods and home types and analyze them in advance. Make sure you look at houses that have recently sold, not those that are currently on the market. Understand that in a competitive, appreciating real estate market, each sale will sell for more than the last sale.
4. When you start looking at homes, consider location-related features like your commute time, the parking situation, the school district, and property taxes. Know where you stand on HOA communities and factor any HOA fees into your monthly budget.
5. Once all these things are in order (and you've picked out your real estate agent and have been pre-approved for a loan), you're as ready as you'll ever be. Keep your eyes open for a good deal, and don't hesitate when that deal pops up. Your agent and lender are key in the success of your offer being accepted. Treu Group Real Estate agents are trained to help you get you to the closing table.
Who is ready to find your new home?
Palm Beach County Real Estate
June 3, 2023
$1,399,000
Med. List Price
Palm Beach County Real Estate by Price