To Do List For First Time Buyers
Buying your first home is quite exciting and can often also feel confusing. There are a lot of new terms, procedures, and requirements and it seems like there is conflicting advice too.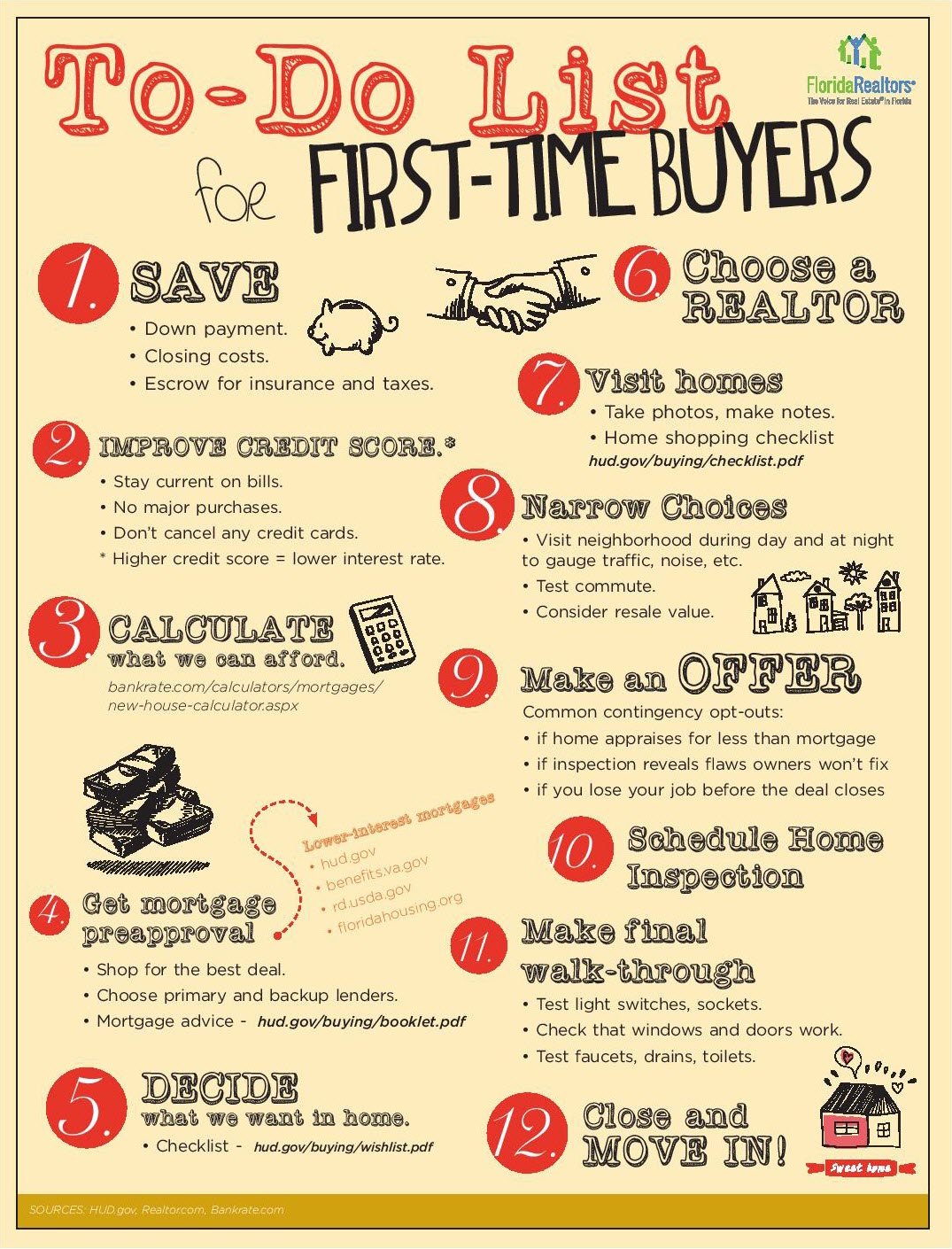 Having enough saved for your down payment, closing costs and reserves is important. There are mortgages with as little down as 3.5% down for FHA. The more money you can put down, the less your mortgage payment will be and the stronger your offer will look.. If you can put 20% down, you will be able to save the MI (Mortgage Insurance). You can ultimately save for a down payment by following tips which include setting aside tax refunds and work bonuses, Building up an automatic saving plan or even see if a family member can give you gift funds.
Another important factor is your credit score. A Higher credit score is equal to lower interest rates. You need to boost your credit score which won't happen overnight because credit score is not your race car where you rev the engine and almost instantly feel the result. Credit scores are more like your driving record: They take into account years of past performance you can find on your credit report, not just your present actions. So stay current on bills, don't make any major purchase, and don't cancel any credit cards.
Discuss mortgage options and your qualifications with a great lender. After revieweing your financial situation and your goals, the lender can help you decide which loan product is best for you long term. Having a great lender as a part of your team is key. The lender that you are using is often considered when you are in a competitive situation with offers. Before you start looking for your dream home, you need to know what is precisely within your budget.
You will need to have a pre-approval not a pre-qualification. Having a preapproval letter in hand makes you look much more serious to a seller and can give you an upper hand over buyers who haven't taken this step. Hire the right buyer's agent who should be highly skilled, professional and knowledgeable about the area.
So what type of a home are you looking forward to buying?
We believe in asking you 50 questions and then show you fewer homes that are right. Understanding what is important and why helps us get the picture so we can easily find your home. It's not over yet finding the right community is just as important as locating the right house. So, pick the right neighborhood, research the schools, even if you don't have kids since that affects a home's value. Look at local safety and crime statistics. How close are the nearest hospital, pharmacy, grocery store and other amenities you'll use? Also, drive through the neighborhood on various days and at different times to check out traffic, noise and activity levels.
Now it's time to make an offer, and your agent will help you position your offer so you get the home you love. If there are multiple bids, think about tactics to win over the seller, such as a personalized letter. You don't always get a 2nd chance.
Once your offer is accepted, you'll pay for a home inspection to examine the property's condition inside and out. But not all inspections test for things like radon, mold or pests, so be sure you know what's included. Make sure the inspector can access every part of the home, such as the roof and any crawl spaces, light, switches, sockets, drains, and toilets, etc. Check windows and doors as well. Attend the inspection and pay close attention. Don't be afraid to ask your inspector to take a look or a closer look at something and ask questions. No inspector will answer the question, "Should I buy this house?", so you'll have to make this decision after reviewing the reports and seeing what the seller is willing to fix.
If you are able to work out a deal with the seller, or better yet, if the inspection didn't reveal any significant problems, you should be ready to close. Closing basically involves signing a ton of paperwork in a very short period, while praying that nothing falls through at the last minute
Congratulations New Homeowner! Now What? You have signed the papers, paid the movers and the new place is starting to feel like home. Game over!