9 Reasons Why Some Homes Sell Faster
So how can you sell your home faster? We have uncovered nine of the most important factors that will lead you to sell your home as fast. Selling a home faster means that you will sell for more money too. Here are 9 reasons why some homes are selling faster than others on the market in Florida real estate.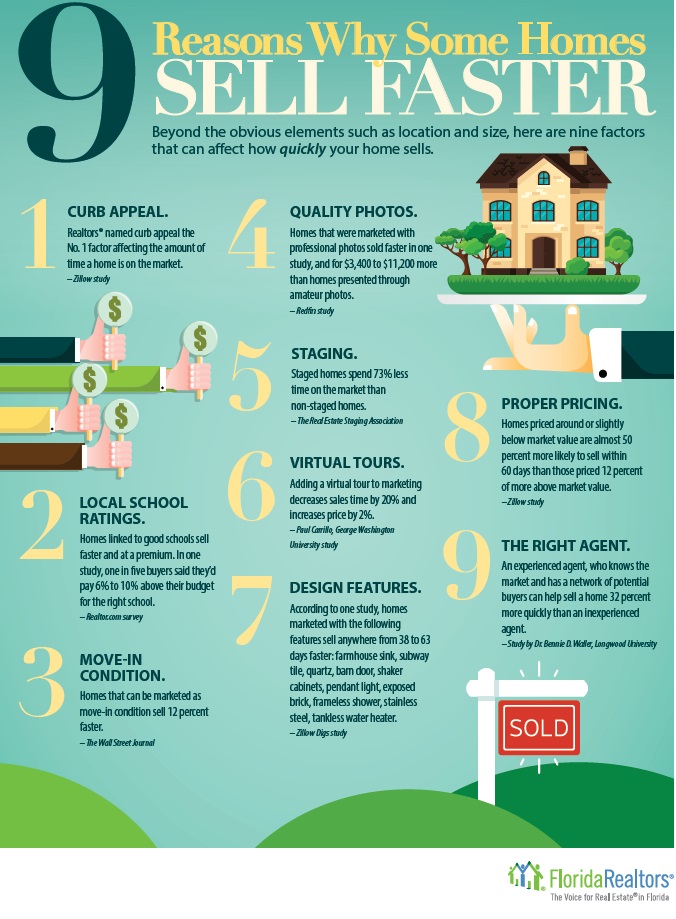 1. Boost Your Curb Appeal: Nothing can beat the first impression. Realtors® named curb appeal the No. 1 factor affecting the amount of time a home is on the market. Think what a potential home buyer may consider while driving up to your property for the very first time. Walk out into your street and look and WE mean it. Look at your home to see its shortcomings. Is it attractive, clean, and well-kept, or does it need maintenance that you need to complete? It can be difficult to see the objectivity of your home since you have been living in it for a long time, so take advice from real estate professionals about how to make it show better. Make sure that your landscaping is well-groomed and your lawn is mowed 24/7. Plus, your driveway, exterior porches, and outer walls must be clean, too. Curb appeal is what lures buyers in, helps maintain their interest, and sets your home apart from the competition.
2. Proximity To School: Education is king, at least for home buyers. Homes located near a school, especially one described by keywords like "top" or "best," Homes linked to good schools sell faster and at a premium price. Based on a recent study, one in five buyers said they'd pay 6% to 10% above their budget for the right school
3. Move-in Condition: Homes that can be marketed as move-in condition sell 12% faster. To a buyer, this phrase tells them they can move into this house on a Friday, put their belongings away over the weekend and go to work on Monday settled into their new home. But, buyers are looking for small defects in a house to have a reason to bargain. So it is important that your home not only be a move-in ready condition but be in impeccable condition for showings.
4. Use Professional Pictures: Use a professional photographer and produce professional marketing materials with the high-quality photos. Professional photos are essential in attracting more buyers and selling the home faster and at a better price. Good marketing makes a huge difference in how buyers see a home. So, make buyers fall in love with photos to let them drive in to buy your home on a positive note.
5. The Staging Impact: Staged houses sell up to three times faster than non-staged houses". As staged homes spend 73% less time on the market than non-staged homes. 81% of the population believes that it becomes easier to visualize property. 46% of the BUYERS prefer home staging than viewing the property online and last but probably not the least 28% of buyers tend to overlook the faults in a staged home
6. Virtual Tours- The Best Home Selling Marketing Tool: In the era of the internet and viral marketing, where the customer experience comes first, there is hardly any other more engaging marketing tool in the real estate domain than the virtual tours. Statistics show that home buyers spend as much as two thirds on the internet before actually buying a property. For that reason, breaking the ice between sellers and buyers is mandatory. The secret? Virtual tours make the entire selling process easier! Adding a virtual tour to marketing decreases sales time by 20% and increases the price by 2%.
7. Design Features That Sell Home Faster: According to one study homes bombarded with the following features sell anywhere from 38 to 63 days faster:
Barn Door: A barn door is a golden ticket and is a signal of a strong design sense. They help a home fly off the market 57 days faster and fetch a 13.4% higher price than homes without it.
Shaker Cabinets: 9.6% higher, 45 days faster
Farmhouse Sink: 7.9% higher, 58 days faster
Subway Tile: "Subway Tile" sold on average 63 days faster, and for 6.9% more, than those without it
Quartz: 6.0% higher, 50 days faster
Exposed Brick: 4.9% higher, 36 days faster
Frameless Shower: 4.6% higher, 38 days faster
Stainless Steel: Listings with stainless steel appliances come off the market in around 79 days, 15% faster than the average.
Tankless Water Tanker: Homes in this listing sold for 4% higher and 43 days faster than those without.
8. Price Your Property As It Should Be: Pricing a home is not like pricing a car or TV. What the buyer ultimately pays is rarely what the list price is. In most markets, the best strategy to attract the buyer is to price just a bit low. Normally resulting in multiple offers, competitive bidding and a fast sale at a high price. In other markets. The reason this works is that the lower price makes the home visible to more buyers and appears to be a bargain. When this pricing strategy is combined with all the steps mentioned above, buyers see a beautiful home in excellent condition at a great price. Of course, they want to write an offer!
9. Hiring The Right Agent: A good agent will analyze recent sales and select a price that is designed to entice buyers to make offers. An experienced agent, who knows the market and has a network of potential buyers can help sell a home 32% faster than an inexperienced agent. So hire only the professional services.
These are the primarily-essential home selling reasons that will make your property stand out from the competition and speed up the sale of your home without sacrificing profit.