Plan Your Move
Moving can be very easy once you make plans ahead of time. The fear of how to start, when to start and which step to start with is what makes lots of people procrastinate until the last minute. This will only lead to huge stress on you as the mover and you have a high possibility of leaving a lot of things out. The best time to start planning your move is six weeks ahead of the main day. This strategy makes moving as easy as a walk in the park. Below are the steps and necessary preparations to make from the sixth week to the last day.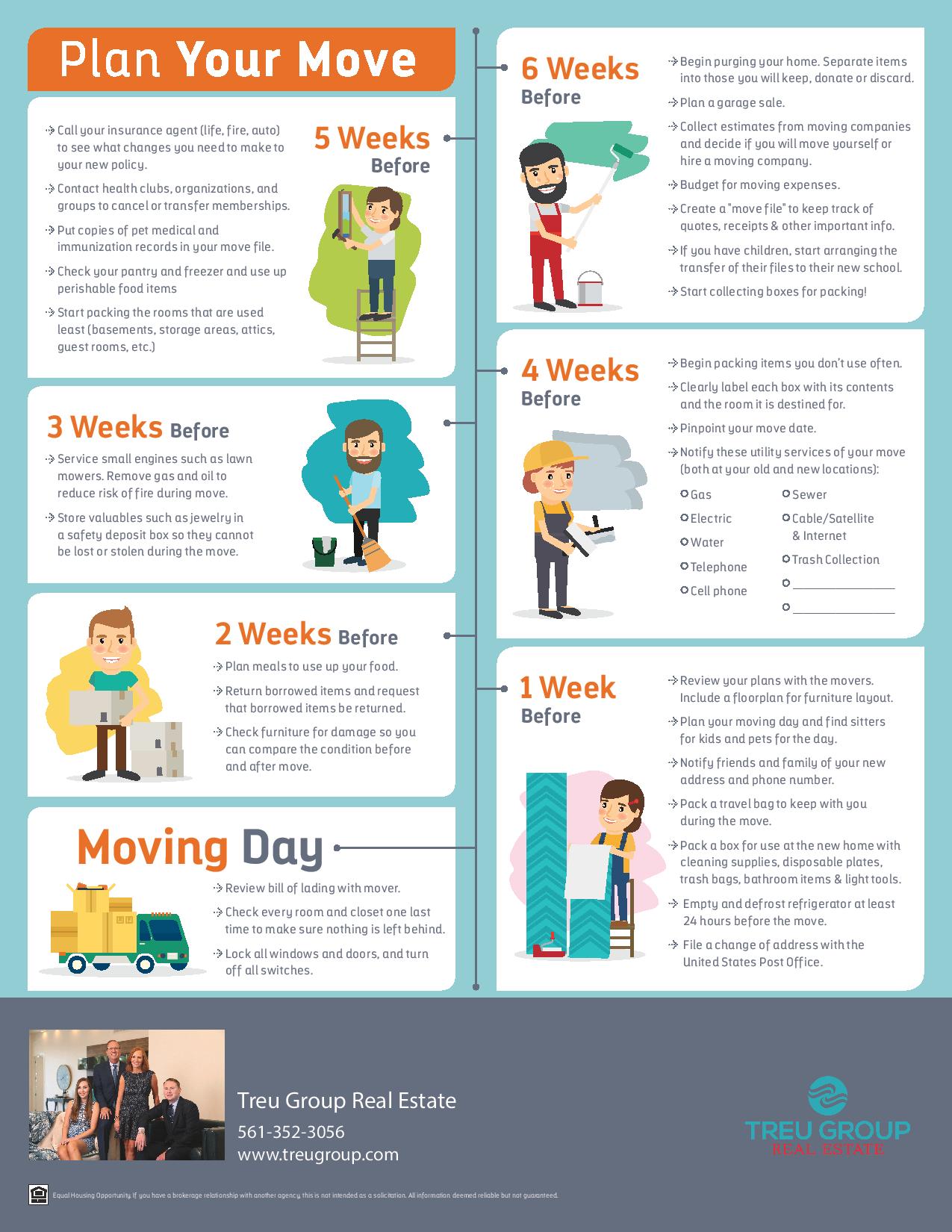 Six Weeks Before
This week should be spent purging your home by doing spring cleaning and having your garage sale to discard items you don't need anymore. Get a cost estimate for moving and make a decision either to move or hire a moving company. Then budget for it. Prepare to transfer your kids to a new school
and create a file to keep track of every moving activity.
Five Weeks Before
This week should be utilized in making necessary changes to all insurance policy if need be. Use up the perishable food items in your freezer. Start packing the rooms that are least used in the attic, guest rooms and so on. Be sure to move your various organization memberships. If you have a pet, be sure to put their records in your moving file.
Four weeks Before
Pick an exact date for your move. Label every moving box with clear inscriptions, then, start packing items you don't use often. This week is best to notify your utility service providers of your plan to move and the exact date. This should be done for both your old and new location.
Three weeks Before
You are gradually closer to moving than you anticipated, be sure to service small engines and remove oil and gas to prevent a fire outbreak in the course of moving. Every valuable jewelry should be safely stored away in a safety deposit box to avoid it being lost or stolen in the course of moving.
Two weeks Before
Plan your meals so as to use up your food items. Meanwhile, all borrowed item should be returned and be sure to check every furniture for damages.
One week Before
Review your moving plan in general. File a change of address with the post office. Remember to empty and defrost your refrigerator at least 24 hours before moving. Plan for the moving day and get a sitter for your kids if need be. Notify your family and friends of your new address.
Moving day
Review bill of lading with your movers. Check every inch of the house to be certain nothing was left undone. Lock all doors and windows and be sure all switches are turned off. When you follow these steps accordingly, you will realize moving can be stress-free.