What You Need To Know Before Buying Or Selling A Home in Palm Beach County
You may be wondering what's going on at the real estate market in Palm Beach County. The market's been hot for a while, but there are some new catalysts that are factoring into what's taking place in real-time. Each week we have about 600 properties come on the market in Palm Beach County, and anywhere from 1,000 to 1,200 properties go under contract in Palm Beach County.
It continues week after week after week. The good news is, you benefit so much from it if you are a homeowner and if you plan to sell your home. If you're buying, it's a huge challenge to figure out how to go ahead, find the right home, and actually win that home from other competitors. Whether you are moving up buying or moving from another state or area, or maybe even buying your first home, the competition has never been this tough.
Many people that are looking for real estate are concerned because of what they're having to pay in terms of prices and whether this is sustainable at this point.
Our Guidance to Buyers
When people say, "Should I buy a home?" The answer is, do you want to buy a home? Do you want to upgrade? Do you want to stop being a renter? Do you have a longer-term goal that having your dream home would achieve? If the answer is yes, then yes, it would make sense. Why? Interest rates are still affordable in every price range right now whether you're in a starter condo, a starter home, or you are buying your dream home. There are buyers that are local, from the Northeast, even as far as California looking now at moving to Florida. Florida is known as the Sunshine State, has beaches, and their prices actually are lower than St. George or even California.
Selling Your Home
If you're selling, the international corporate investor, including Wall Street, is looking at residential homes to rent and to hold. It just makes it a very challenging market to understand how to get the most equity out of your home, because it's just not about selling. It is about maximizing the opportunity for my clients as sellers and helping the buyers put a strategy together so that they can increase their chances of being able to buy the home that they want.
Treu Group Real Estate sells a lot of homes all throughout Palm Beach County, and even some in Broward County, and we maximize our client's equity. Every time we take a listing, we have a specialized marketing strategy to attract the right buyers. Treu Group Real Estate also knows how to negotiate. We know how to get not just the best price but also the best terms. Marketing and strong negotiation skills are key and the skill to be able to maximize your equity.
The Sweet Spot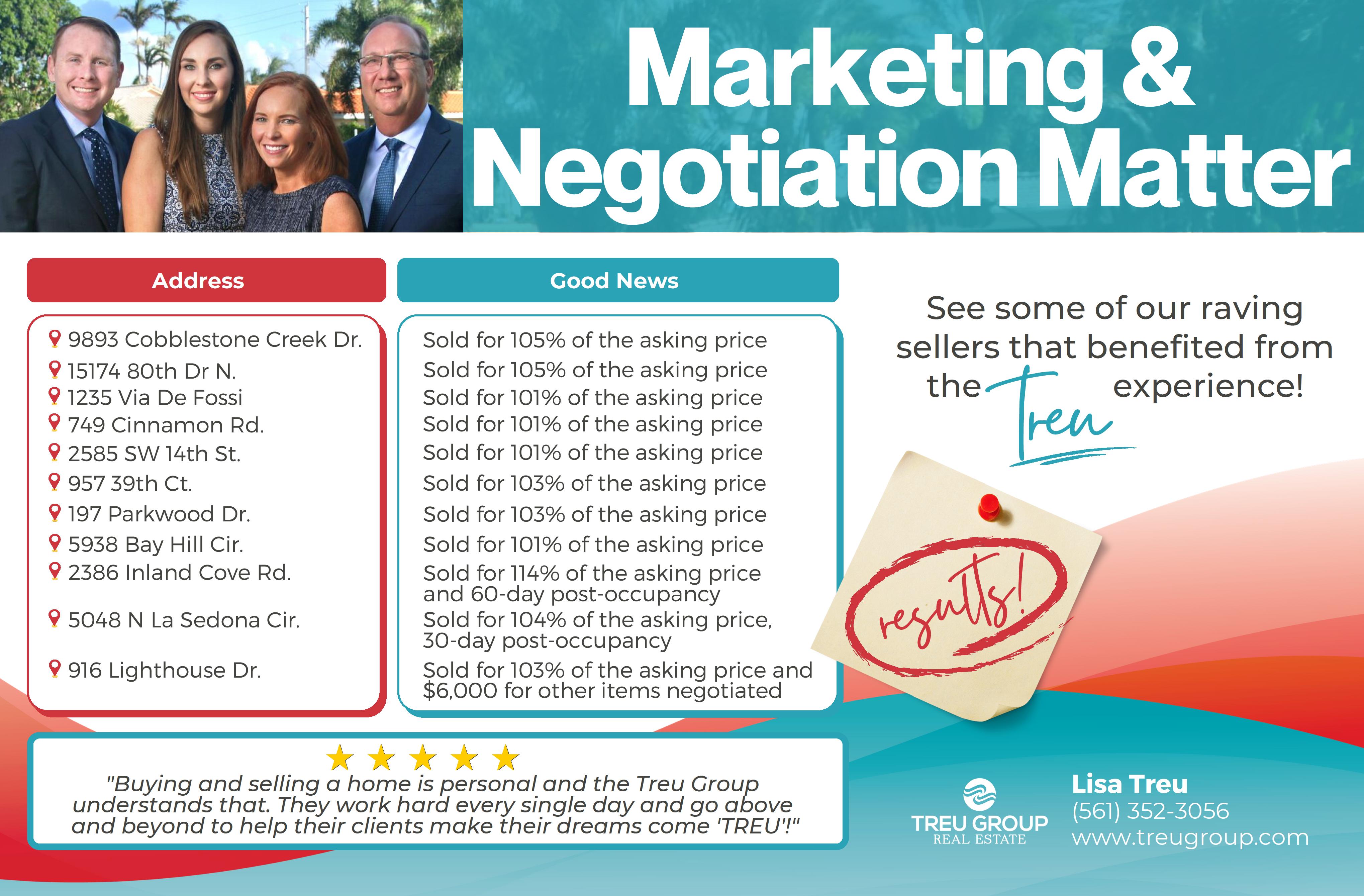 We have been selling our properties from 101 to 114% of the asking price. It's all about pricing the property right and where there is an appreciating market, we're often stretching that price to a price that we call the "sweet spot" and it's getting multiple offers. We're strongly negotiating, and our results show what we've been able to do for our clients.
When you start thinking about the implications, 1% on the average property, is about $4,000. Now, you're talking about maybe in some cases, 10% or even 20%. That's a $40,000 plus worth of difference on the average home in this current market, and not just getting sold for an asking price. Having the right expertise to maximize and the right marketing maximizes the opportunity is crucial right now.
The Buying Side
Let's take a look at this being dynamic, being competitive without being foolish especially for people that are financing. There's no guarantee that a property is going to appraise. It's very important to be able to navigate some of these challenges right now. Having the right agent, the right lender, is helpful. You have to have a lender who is very professional and has a strong appraisal pool that understands the market.
Reputation is often the reason an offer is taken or another one is taken. Who's the reputation? The reputation of the agent and the reputation of the lender. That's why we use the lender that we do. That is also why our real estate agents are so highly trained because we get our deals closed. We know how to overcome the challenges.
In this market, we have more challenges than we ever did before because buyers, sellers, and lenders are nervous. We're having to really work to get those appraisals and to get the properties closed.
The A-Team
The Treu Group comes together to help pull together this expertise and the advantage of that versus a real estate agent that's out there on their own. There is no way one individual can do all the things that need to be done to implement our goals, dreams, vision, and marketing. It does take a whole team and not just a team, but the best team.
Why is that important? When there's an issue, it gets all of our attention. Many times when there's an issue, somebody else on the team will brainstorm and we'll come up with an amazing solution. That is a unique resource that we have.
Beyond the years of experience, Steve Treu has experience in so many things that comes in handy every day, like construction and repairs. He is analytical and really helps with appraisals which we've been having great success with recently.
The most fun part we get to do every day is to meet our clients and exceed our client's expectations. We love it when a seller has been told, "You'll never get that price." and we look at it and say, "I believe we can." and then we do. We love that moment because they've been told no, no, no, and yet, we had a different perspective because I know how to put the right strategy in place. We never take a 'no' when a 'yes' is possible. Buyers need a strategic agent right now or they will just be frustrated over and over.
Your Local Palm Beach County Resource
The Treu Group is not only well-versed and experienced in real estate all throughout Palm Beach County in South Florida but you also have been working in building that expertise for 32 years. Including having gone through the previous housing, boom, and bust cycle, to understand all those different concerns, factors, and how to navigate them based upon what our clients are looking for.
As a local, Treu Group knows every single neighborhood in Palm Beach County, almost to the point where we know the streets. We understand what makes each home and each community special. We have buyers that are looking at Martin County, all the way down into Broward to Lighthouse Point and Parkland, Florida. We do business in every city in Palm Beach County and we have expertise in marketing.
If you just want to sell it, you can hire anyone. But if you want to sell it for the most money, with the easiest transition, that's when you need to call Treu Group Real Estate. Just ask your questions. Make sure you have the best possible advice because little mistakes are always a big deal in real estate, especially in today's market.